Save the date: Go Live From Compton High, Dec. 4th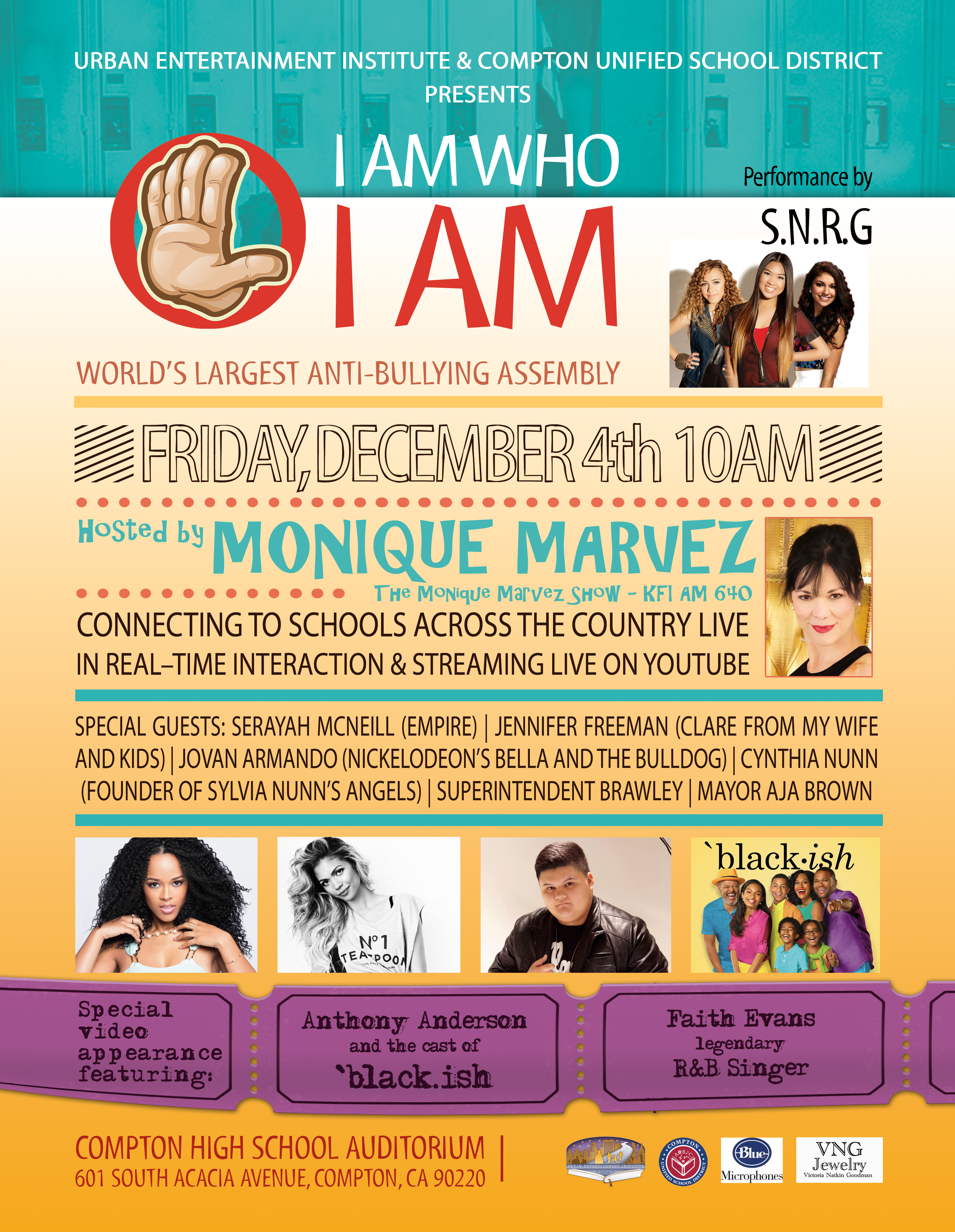 I PROMISE YOU WILL BE INSPIRED!
A Live Performance by S.N.R.G and VNG Jewerly on Sale to Benefit Urban Entertainment Institute! Musicians, Actors, Comedians, Authors, Celebrities, from around the Globe as well as Fashion Icons, Executives from Film & TV will be there in their support for our last get together before we GO LIVE FROM COMPTON HIGH DEC. 4th For the World's Largest Anti-Bulling Assembly ever produced with participation from schools throughout all 50 States.
Come out and meet the kids, hear their stories and become a part of "I AM WHO I AM" and help to replace loneliness & bullying by putting Music and Mentorship back in our Schools!
We WILL make a Difference!
This is the last fundraising opportunity Urban Entertainment Institute has before the BIG ASSEMBLY on December 4th!
Can't be there? You can still help out by donating directly to UEI @ http://urbanent.org/donate/
Or view via LIVE FEED HERE http://tinyurl.com/nmf2p95.
PLEASE SHARE and spread the word! #IAmWhoIAm #12/4 #sharingiscaring #vng #urbanentertainmentinstitute
---
Help support Urban Entertainment Institute through giving. Donations in all amounts are excepted via Amazon Pay, please click below to show your support.

Donate TODAY!
$25
---
$50
---
$100
---
$250
---
$500
---
Need to contribute more? Please view our Giving page by clicking here.